De figura seu imagine mundi
(The figures or the image of the world) Louis de Langle MS 427. 128 pages
Date:  1456
Source:
St. Gallen, Kantonsbibliothek, Vadianische Sammlung, VadSlg Ms. 427, f. 11v – Ludovicus de Angulo (Louis de Langle), De Figura seu imagine mundi
(http://www.e-codices.unifr.ch/de/list/one/vad/0427)
The cosmology of the Lyon physician and astrologer Ludovicus de Angulo (Louis de Langle). Wikipage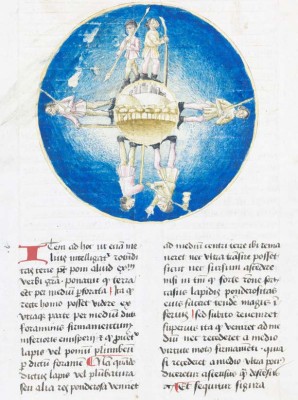 De Figura seu imagine mundi Am oberen Rand: Jhesus Maria. Text: Cum secundum philosophum primo de anima omnium rerum noticiam seu scienciam habere certitudinaliter debemus estimare esse quoddam bonum …–… et semper fortitudo dictorum accidencium erit in cauda seu in fine pretaxati temporis etc. Die in Hustache 1980 genannte, unpublizierte Edition war bei der Beschreibung nicht zugänglich. >Et hec sunt que promisi in principio huius libri qui perfectus fuit divina gratia auxiliante anno domini millesimo ccccmo quinquagesimo sexto xviii. mensis decembris in civitate Lugdunensi<
122v–127r
Tables on the relationship of the Earth and the stars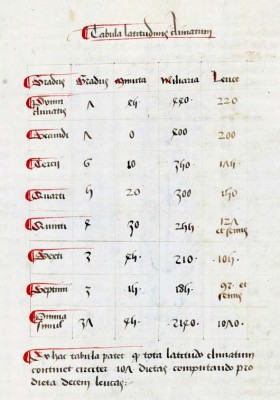 126r. Table with the inclination of the 7 climates.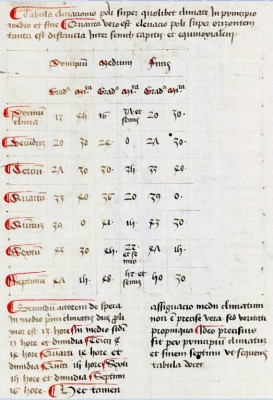 126v: Table of latitudes about any climate