Look at the picture of Frau Minne: (Allegorical depiction of women's power over men's hearts).
Broadsheet woodcut, coloured, 15th century by Master Caspar von Regensburg. 1450
Berlin, SMB, Kupferstichkabinett. source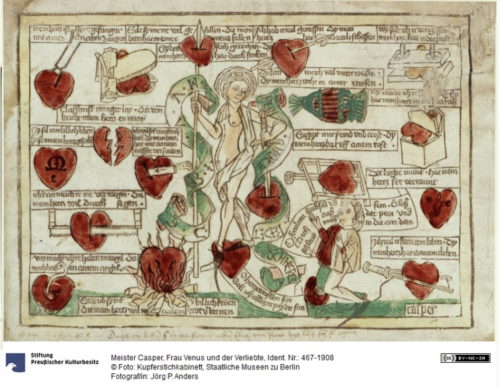 iconography of Frau Minne, the aggressive German version of Venus, whose religious implications in the context of the Passion are dominant (fig. 11).67 Joel, who knew both the German and Italian cultures, combined the Italian goddess and the German personification to embody the biblical metaphor of Israel as a girl who has reached marriageable age.  source
She is standing in contrapposto:
an asymmetrical arrangement of the human figure in which the line of the arms and shoulders contrasts with while balancing those of the hips and legs.
The figure is artfully foreshortened, engaging in a sweeping contrapposto to provide a virtuoso 'frame' for the sudarium, the origin of all cult images, made without human hands from the face of Christ.
"Im Zentrum steht Venus nackt in modischen Schuhen auf einem Herzen, in einer Hand ein Schwert, das ein Herz durchsticht, vom großen Spruchband glossiert »MEIN HERCZ LEIDET SCHMERCZ«, in der anderen Hand eine Lanze, auf der gleichfalls ein Herz aufgespießt ist, wozu der daneben gedruckte Text sagt »Sy hett seich gerochen."
Notice how CZ is used at the end of the words.

Sy hett seich gerochen. dy
mein hercz hat durchstochen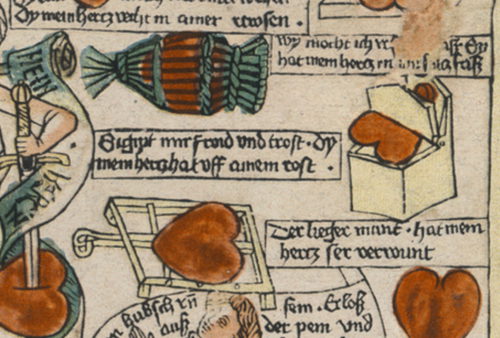 On the right below the the squeezed hart:
Rost »Si gipt mir frewd und trost. dy
mein hercz hat uff ainem rost«
below: Verletztes Herz mit n e
»Der lieger munt. hat mein
hercz ser ver-wunt«.
+-+-+-+-+-+-+-+-+-+-+-+-+-+-+-+-+-+-+-+-+-+-+-+-+-+-+-+-+-+-+-+-+-+-+-+-+-+-+-+-+-+-+-+-
Das um die Lanze gerollte Spruchband enthält ungedeutete Buchstaben: M.V.V.I.E.C.E.(?).
Am Boden kniet ein Jüngling auf einer Rose, »O herczes roßlein fein Solt ich alleczeit pey dir sein«.
Der Jüngling spricht »O freulein hübsch un(d) fein. Erloß Mich auß der pein und schleus mich in die arm dein«.
Zu jedem Bild, das ein gemartertes Herz zeigt, gibt es ein volkstümliches Textchen.
Links oben eine Zange »mein hercz ist hert gefangen mit ainer driecken Zangen«. Mausefalle »Solt sy mir nit wol gefallen. Die mein hercz hat in einer meusfallen«.
Pfeil »Ich hab ir wol genossen Dy mein hercz hat durchschossen«.
Presse »Wy solt ich ir vergessen (dy) mein hercz hat in der pressen«.
Buchstaben M e (Minne ewig ?) »Sy sol mir billich üben Sy ist in mein hercz gescribe(n)«.
Gebrochenes Herz »Claffen ist manger lay. Davon bricht main hercz enzway«.
Dolch im Herzen »ich wil sy fruntleich bitte(n) dy mein hercz hat mit ainem messer versnit-ten«.
Reuse »Sy kan meich wol unterweisen. Dy meyn hercz vecht in ainer rew-sen«.
Salzfaß »Wy mocht ich res…aß. Sy hat mein hercz in … Salczfaß«.
Säge »ich kan meich ir nit verwegen. Die mein hercz wil durch segen«.
Angelhaken »Wy mocht ich ir haben mangel Die mich hat an ainem angel«.
Im Feuer »Solt ich sy nit billich ken(n)en die mein hercz wil in ainem fewr verbrenen«.
Holz kloben »Ich wil ir siette trew loben. Dy mein hercz hat in ainem cloben«.
Ein Zeit genosse, vielleicht der erste esitzer, schrieb altklug unter die Darstellung o stulte… Du Narr…
Text: Hans Mielke in: Das Berliner Kupferstichkabinett. Ein Handbuch zur Sammlung, hg. von Alexander Dückers, 2. Auflage, Berlin 1994, S. 94f., Kat. III.6 (mit weiterer Literatur)