1.12.2016
The eva transcription of 4o = qo.
Many attempts to obtain the true identity of this strange 2-gram, that always appears at the front of a word, and never at another position, failed.
The dendrogram of q shows that there are also some other words, like qai, qc…., qe…., qk,  and qy… but qo is the most prominent.
Reading the description on the "wolkenband incunable" one of the first lines with the description contained:   ……4o (25.5cm) 257 leaves….
it became possible that
4o = q[uatr]o
a well used abbreviation among paleographers & librarians.
If this is correct, it is very likely that the characters that follow 4o… are numbers. The concept that the VMS contains references, page numbers or something of that nature.
More reading
bifolium – the two-page 'v' of conjoined pages in a manuscript. In medieval practice, usually a skin would be folded and cut to produce two bifolia (quarto size); four bifolia (octavo size); or, more rarely, six (duodecimo) or eight (sextodecimo) folios in size. Papermakers followed this practice in the early ages of printing, which is why book sizes today are still very close to the sizes they were in the Middle Ages.

Source: British Library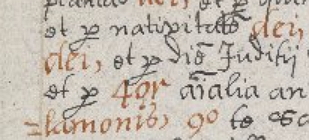 As a Latin abbreviation we see in the above sample (from here) in the
"Book of magic, with instructions for invoking spirits, etc." [ca. 1577-1583] that the [4or] is used as abbrev. for [quattu]or.

Related information
1e90  = 1490
see bottom page https://commons.wikimedia.org/wiki/File:NKP_XXIII_C_119_fol_1v.jpg
pm9 = primus = first
Source:  http://ciphermysteries.com/2009/10/07/unusual-quire-numbers-revisited

Nick P.:  It's abbreviated longhand ordinal Roman numbers. Or (more usefully) it's short for "primus".

p with a curved line over it = pri-
m = m
9 = late medieval abbreviation for -us

Hence "primus", which means "first", so it's the quire that should be bound at the front (the first).
03.05.2017
Qu
In Italian ciphers around 1500 (see the examples of Batista Bellaso) we that that all letters are mentioned seperately, but there is always one exception:  the n-gram QU.
For the letter Q in Italian there seems to be only one possible appearance: QU.
For a list of possible words we can use online puzzle helpers such as:
http://www.ezglot.com/words-containing.php?w=q&l=ita&length=2&submit=Search
No q-words length 1,2 exist.
3 LETTER WORDS CONTAINING Q
qua
qui
WORDS CONTAINING Q
equo
iraq
qua
quai
qui
quiz
5 LETTER WORDS CONTAINING Q
acqua
acque
qatar
quale
quark
quart
quasi
quiet
quivi
quota
quoto
roque
6 LETTER WORDS CONTAINING Q
acquea
acqueo
aquila
cinque
claque
dunque
equale
equare
equino
equità
iniquo
jarque
pasqua
qoelet
quadra
quadri
quadro
quando
quanto
quarto
quarzo
quasar
quatto
quebec
quelli
quello
querol
questa
queste
questo
quiete
quieto
quinci
quindi
quinta
quinto
quorum
raquel
requie
squalo
squama
ubiquo
7 LETTER WORDS CONTAINING Q
acquaio
acquata
acquato
acquoso
antiquo
aquario
bilquez
bouquet
eloquio
enrique
equoreo
fin qui
joaquín
kumquat
liquame
liquido
liquore
loquace
nequità
obliquo
ossequi
ovunque
qua qua
quaglia
qualche
qualità
quantum
quattro
quercia
querela
querulo
quesito
quotare
quotità
requena
requiem
sequela
sequoia
squadra
squadre
squadro
squillo
tequila
vázquez
8 LETTER WORDS CONTAINING Q
acquario
acquetta
acquisti
acquisto
aliquota
alquanto
aquilone
cadaqués
chiunque
colloqui
comunque
deliquio
dovunque
equabile
equalità
equanime
equatore
equestre
equisono
equivoco
il quale
inequità
iniquità
inquieto
moquette
nequizia
ossequio
paracqua
pasquale
quadrare
quadrato
quadriga
qualcosa
qualcuno
quantico
quantità
quanto a
quaranta
quartina
quarzoso
querceta
querceto
quercite
querelle
questo è
questore
quiddità
quietare
quietato
quindici
quintale
quintana
quintino
quotista
reliquia
requisit
riquadro
riquelme
sciacquo
sequanio
sequenza
squamare
squamoso
squarcio
squisito
telequiz
ubiquità
ziqqurat
WORDS CONTAINING EQ
equale
equare
equino
equità
equo
requie
WORDS CONTAINING AQ
aquila
claque
iraq
raquel
Examples of top words, based on analysis on old Italian documents are: