Marginalia drawings and wolkenband
Marginalia drawings in other books can be quite interesting.
Take for example the "De Hortus Sanitatis", about the garden of health with medical; method practiced in Scotland. Printed around 1491 in Mainz, by Jakob Meydenbach. Since 2012 available at the uni in Aberdeen. (newsarticle). Read and view special collections blog.
It shows recipes, mermaids, a hilarious monkfish, a hospital and much more.
19.11.2016.
Of particular interest are the handwritten margins by owner George Peacock from an Aberdeen apothecary in 1600's.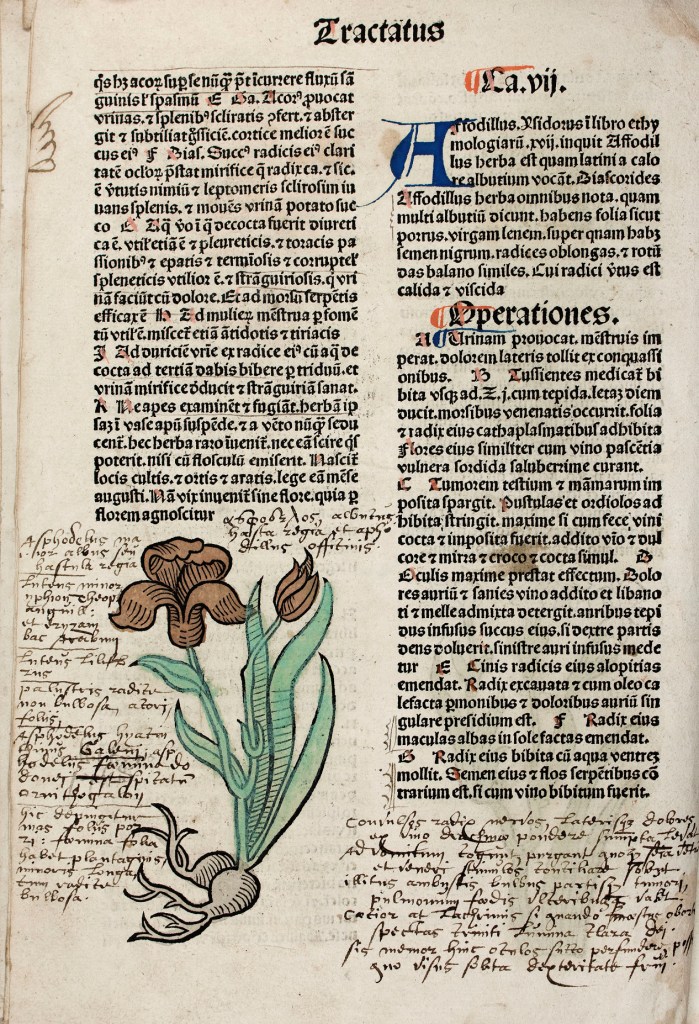 The Cambridge University Blog (www.english.cam.ac.uk/cmt/?p=4687) shows us that many other books use margins for extra information 😉
Thank you Jason Scott-Warren!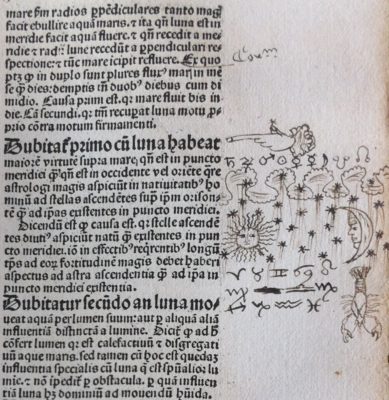 ---
I tried to make the following transcription:
mare fin radios perpediculares tanto magi
facit ebullire aquam maris. i ita quen luna est in
meridie facit aquam fluere. i quen recedit a
meridie i radii lune recedeut a perpendiculari
respectione: i tuec mare icipiut refleuere. Ex quo
patet quod in duplo sunt plures flures mar in me
se quam dies: dempris tene duobus diebus cum di
midio. Lausa primi est. qr mare fluit bis in
die. La secundo. qr tam recupat luna motu
prio contra motum firmamenti.
Subitatur primo cum luna habeat
Maiores virtute supra mare quen est in puncto
meridiei quo'quen est in occidente vel oriente quere
astrologi magis aspiciute in natiuitatibus.
Hominu ad stellas ascendentes supre ipm orisonte
quam ad inpas existentes in puncto meridiei.
Dicendus est quod cause est. Que stelle ascendentes
diutis aspiciut naturem quam existentes in puncto
meridiei. Iom in effectibus reqrentibus longus
tempus ad eorum fortitudinem magis deber baberi
aspectus ad astra ascendentia quam ad inpa in
puncto meridiei existentia.
Subitatur secundo an luna
moueat aquam per lume suum: aut per aliqua aliam
influentia distinctam a lumine. Dicit quam ad
beconfert lumen qui est calefactiuum i disgregatiuum
aque maris. Sed tamen cue hoc est quedaram
influentie specialis cum luna que est spundalior
lumie. y numero ipedit per obstacula. per quam influentia
luna babet dominium ad mouendum buida.
cp=quod , cp_=quam/quoque?
—–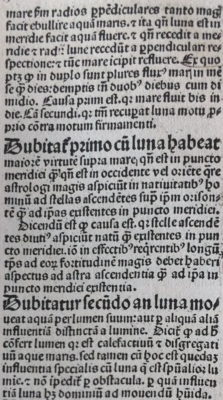 The same picture arises on http://www.letraslibres.com/mexico-espana/vandalismos-nerdos-intervenciones-en-libros-y-bibliotecas
The image did remind me of several parts in the VMS: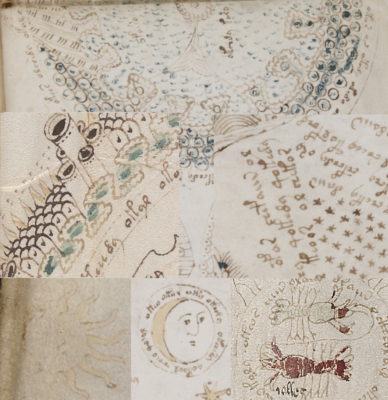 Although the time frame mentioned is utterly wrong, I am now in pursuit of this image.
It seems that Dr Alexander Marr gave a presentation in 2015,  http://www.crassh.cam.ac.uk/events/26149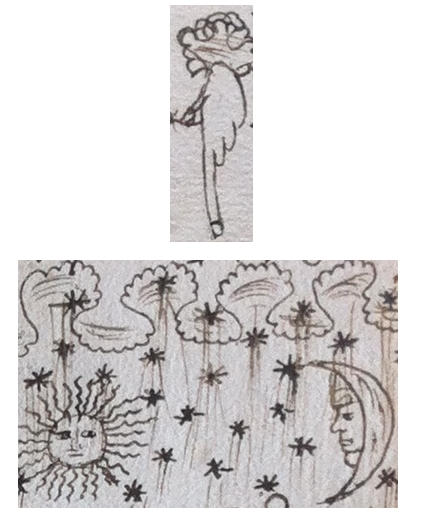 ---
Vincenzo Cartari's,  Imagini 
https://books.google.nl/books?id=qL4yK8_AjLMC&printsec=frontcover&dq=Vincenzo+Cartari+Imagini&hl=nl&sa=X&redir_esc=y#v=onepage&q=Vincenzo%20Cartari%20Imagini&f=false
or
The beautiful illustrated :  Cartari's 'Le imagini de i dei delli antichi' https://archive.org/stream/leimaginideidegl01cart#page/n424/mode/thumb
---
The source is this incunable in the Cambridge University Library:
lds37: "Liber pandectarum medicinae. Latin"
lds13: Opus pandectarum Matthaei Silvatici cum Simone Ianuense et cum quotationibus auctoritatum Plinii Galieni et aliorum auctorum in locis suis
Author: Silvatico, Matteo, -approximately 1342.
lds11: Contents:Title page, a1r; Matthaeus Silvaticus. Liber pandectarum medicinae, dedicated to Robertus, King of Sicily, incipit "A. Littera qua[m] arabes alif . vocant sepis-sime apud eos sonat a.", explicit "condisi. quid est .l. condes", a2r-t10r; printer's register, t10r; colophon, t10r. The text includes additions from Simon Genuensis. Synonyma medicinae [also known as Clavis sanationis], and quotations from auctorities such as Plinius, Galen, Serapion and others.
Availability and location:
Cambridge University: UL: Order in Rare Books Room (Not borrowable) (Inc.3.B.3.68[1602]
Description:
Physical Location: Cambridge University Library

Classmark: Inc.3.B.3.68[1602]

Alternative Title(s): Opus pandectarum Matthaei Silvatici cum Simone Ianuense et cum quotationibus auctoritatum Plinii Galieni et aliorum auctorum in locis suis

Uniform Title: Liber pandectarum medicinae. Latin

Publisher: Bernardinus Stagninus, de Tridino

Date of Publication:

27 March

1499

Language(s): Latin

Note(s): Title from title page on leaf a1 recto.; Imprints from colophon on leaf t10 recto, which reads in full: Per Bernardinu[m] Stagnin de Tridino mo[n]tifferati .M.cccc.lxxxxix. Die ve-ro .xxvij. Marcij Uenetijs.; Caption at incipit on leaf a2 recto reads: Opus Pandectarum quod aggregauit Eximius artiu[m] & medicine doctor Matheus Siluaticus ad serenissimum sicilie Regem Robertum. qui fuerunt anno mundi .6516. anno vero [Christ]i .1317. coeui Petro de Abano. Dino de garbo. Gen-tili. Bonauenture. Francisco mayroni & Nicholao d[e] lira additur Sim on [sic] Januensis vbiq[ue] per alphabetum.; Woodcut initial on leaf a2 recto.; Text in two columns.; Signatures: a-s⁸ t¹⁰.

Extent: 154 leaves : Init. (woodcut) ; 312 mm. (fol.)

Provenance: Provenance: Inscribed "Iste liber co[n]stat Joh[an]ni hola[n]d .15. die Junij .1523" on leaf t10 recto, i.e. John Holand, England, 1523. Inscribed "Modo Thoma Southake Junior me emit anno salutiferi n[ost]ri 1534 . me[n]sis mij die 15" on same leaf, i.e. Thomas Southake, England. Inscribed "Thomas Lorkyn" with monogram on leaf a1 recto, i.e. Thomas Lorkin, Regius Professor of Physic, Cambridge. Part of Lorkyn's bequest in 1591. Library's armorial bookplate on leaf a1 recto. Old library shelfmarks "N-8-2" in ink on leaf a1 recto. UkCU
Impression of 1R and 1V: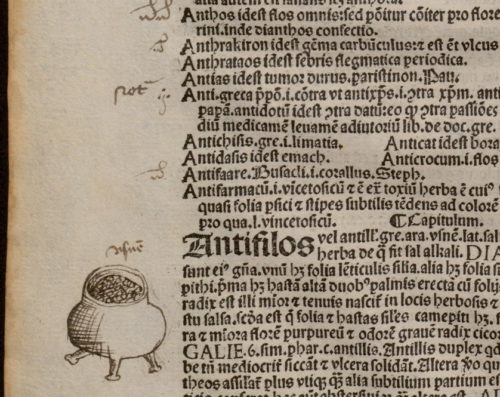 example transcription:
i.corallus ~ item corallus
Book background information:
source: wiki https://en.wikipedia.org/wiki/Matthaeus_Silvaticus
Matthaeus Silvaticus or Mattheus Sylvaticus (c. 1280 – c. 1342) was a medieval Latin medical writer and botanist. Born in northern Italy, probably Mantua. He was a student and teacher in botany and medicine at the School of Salerno in southern Italy.
He made a 650-page pharmacopoeia (herbal medicines) around 1317 under the Latin title Pandectarum Medicinae or Pandectae Medicinae. It was printed in at least eleven editions in various countries between the invention of the printing press and 1500.
The book lists the herbs in alphabetical order and is a compilation of earlier books and knowledge and reflects the pharmacology at that time. It is divided in many chapters (700+) (depending of the edition).
In the description the book is dedicated to King Robert, ( Regem Robertum) and he received from the Kind the title of "milos" as member of the personal royal medical crew.
Robert King of Naples, nicknamed "the peace-maker of Italy".
Robert of Anjou (Italian: Roberto d'Angiò), known as Robert the Wise (Italian: Roberto il Saggio)
The medicinal substance is named together with very brief identifying information and then follows several lengthier summaries or quotations from several well-known medical authorities about the substance's properties and uses.
The medical authorities are either (A) the particular ancient Greek medical writers that were widely read by the medieval Arabs (particularly Diosorides and Galen) or else (B) Arabic medical writers (particularly Serapion the Younger and Avicenna).
Part of Matthaeus's encyclopedia was taken from a shorter work by Simon of Genoa (aka Simon Januensis) entitled Synonyma Medicinae, which was written a few decades earlier and which is a dictionary of medicines rather than an encyclopedia.
The 233 of 487 plant names that Matthaeus used were Latinizations of Arabic plant names and their synonyms.
Besides that there is also a description of 157 minerals and 77 animals. The morphological properties described are accompanied by a description of the roots and other subterranean properties.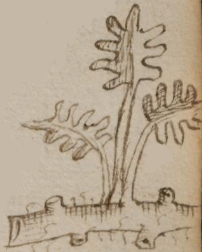 Different editions of the Opus Pandectarum (aka Liber Pandectae) were printed in Latin in the late 15th century are online at Digitale-Sammlungen.de (year 1498), Digitale-Sammlungen.de (year 1488), Gallica.BNF.fr (year 1480).
About the life of Matteo Silvatico
Matthaeus Sylvaticus – Matthaeus Silvaticus
http://www.summagallicana.it/lessico/s/Silvatico%20Matteo%20-%20Sylvaticus%20Matthaeus%20-%20Silvaticus%20Matthaeus.htm
Opus pandectarum Matthei siluatici cum Simone ianuense et cu[m] quotationibus auctoritatum Plinii galieni & alioru[m] auctor[um]… (Inc.3.B.3.68[1602])
Learned medicine was mostly written in Latin, but readers of medical books had to cope with an extraordinary variety of technical terms, many originating in other languages. There were Greek, Arabic, Hebrew or Syriac words, transliterated into Latin, and many of these words might refer to the same thing. Working out what a particular medical author meant was vital, especially when it came to prescribing medicines. No surprise then that one of the most valuable books a doctor could own was an alphabetical dictionary of these terms in Latin. The thirteenth-century physician Matteo Silvatico from Mantua was the author of a standard medical dictionary of this kind, the Opus pandectarum (literally 'A work of universal knowledge'). His work was incorporated with the Synonyma medicinae of Simon of Genoa, physician to Pope Nicholas IV, at the end of the fourteenth century.

This copy of the Opus pandectarum was owned by Thomas Lorkyn, the fourth Regius Professor of Physic at the University of Cambridge. When he died in 1591 he bequeathed his extensive medical library to the University with the intention that it should be used by medical teachers and students. The book has his distinctive monogram in it, but before Lorkyn it had at least two previous owners. One was John Holand, who recorded his ownership in 1523, and the other Thomas Southake, Junior, who bought the book in 1534. These two men, otherwise unknown to us, added a remarkable number of notes and drawings to the book. It is quite likely that they too were Cambridge students of medicine.

Most of their notes tell us how to interpret terms in the dictionary. Opposite the entry for Semissen (sesame) there is a drawing of the plant, and a note that it grows among grain in England, where the local name for it is 'drawk' (drake). A separate note says in Latin, 'I think this is called darnel.' In fact these two weeds, drake and darnel, are not the same, showing the difficulties doctors had in deciding what was meant by an obscure Latin term. Not all the drawings are of plants or materia medica. At two points in the text we find pictures in the margin of a foetus in the womb, in both cases where the text refers to abortifacients – Abel, Savin juniper, and Elleborus, hellebore.

Peter Murray Jones
On the stephen bax site, a discussion has taken place and this example was posted by Darren Worly with the same "wolkenband" (German/Dutch for ring of clouds).
SEPTEMBER 10, 2015 – 11:27 PM
Its reference is Cod. Pal. Germ 291, "Iatromathematisches Hausbuch" (Handbook of Astrological Medicine); Gebete und Betrachtungen.
http://digi.ub.uni-heidelberg.de/diglit/cpg291
It originates from Bayern [Bavaria], Southern Germany and dates from 1475 to 1496.
Cod. Pal. germ. 291
'Iatromathematisches Hausbuch' · Gebete und Betrachtungen u. a.
Pergament · 3 (Pap.) + 116 + 3 (Pap.) · 28,9 × 19,2 · Bayern · nach 1477/vor 1496.
In this ms also interesting other images, such as "venus der planet" found on f24v with a star, flower, libra etc.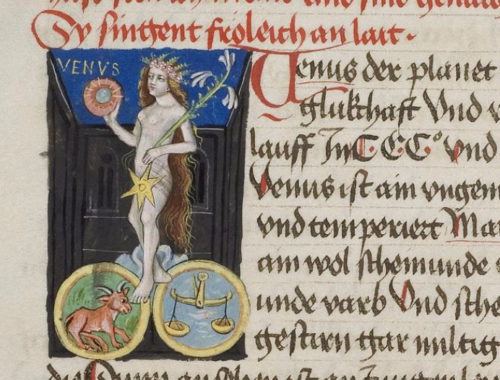 R. Sale writes on  http://www.voynich.ninja/thread-653.html that
The central rosette is surrounded by a wolkenband that is based on an embellished version of a nebuly line quite similar in style to the examples found in d' Oresme and de Pizan.

The use of this line, generally, is to separate the mortal from the divine, the earthly from the cosmic. And one might assume that a similar function is performed in this example.

…snip
Diane N.O'Donovan · 10 June 2015, 17:08  writes here:
The pattern was inherited by the fifteenth-century artists who used it, and they use it to mean the same as it always had: the limit of the human domain. As a rule it means that between the heavens of men, and that of the divine, but not invariably.

I've treated it before in my blogs, but the main point is that it isn't a peculiarly fifteenth-century motif, and most certainly not one either native to Europe or exclusive to it. It's very well known in the history of art.

I realise that for some time there has been an effort to use the motif as some sort of proof for German origins for the manuscript, but frankly if one tried to make that argument among professionals about any work of art, they'd think it was a bit of humour, since it became popular, we think by adoption from earlier Jewish works inherited after the expulsions, or more directly as an effort to imitate motifs found on eastern artefacts.

In treating this motif, and trying to halt the erroneous idea that it was somehow a peculiarly German motif, I've even quoted two German scholars directly. With your permission, I'll repeat:

First, when describing work in marble from the Topkapi Serai (Istanbul), Viktoria Meinecke-Berg speaks of its 'typical' cloud-band motifs. "… hier das Marmorfeld durch ein bezeichnenderweise mit einem abstrakten Wolkenband gemustertes Fliesenfeld ersetzt ist "

and more specifically still – and as has been general knowledge in the art world even longer than this quote from the 1970s – it was then that Volkmar Enderlein wrote: Das Wolkenband fand als Ornament durch mongolische Vermittlung aus China Eingang in die islamische Kunst. In einem persischen Manuskript der Chester Beatty Library aus der Zeit um 1400 bilden reich bewegte Wolkenbiinder den Hintergrund fur die Darstellung eines Vogel Phdnix.

Ein 1436 in Herat geschriebenes Manuskript der Bibliotheque Nationale in Paris enthalt eine ganze Reihe von Miniaturen, auf denen Wolkenbander dargestellt sind. Auf den Miniaturen ist das Wolkenband noch ein landschaftliches Element. Auf persischen Erzeugnissen des Kunsthandwerks wird es aber allmahlich zum Ornament.
I could not find the named Persian manuscript, because there are only a few images online on the Chester website. Nor could i find the Paris one (how to look for that anyway?)
I do not know why anyone who makes an argument, does not mention the specific manuscript  number, date, author name, picture or exact source reference and it's very annoying "I saw it before but I will not tell you where".
Anyway this lead me to:
Ellie velinska blogpage  http://ellievelinska.blogspot.nl/2014/06/the-voynich-manuscript-geocentric-model.html
where she kindly mentions:  BNF Français 565 ( visit here )  British Library, Harley 4431 ( visit here )
and Marco Ponzi replies with mentioning
http://gallica.bnf.fr/ark:/12148/btv1b8451098g/f53.zoom.r=%20D%C3%A9coration%20fran%C3%A7aise
Nicole Oresme, Traité de la sphère ; Aristote, Du ciel et du monde [De caelo et de mundo], traduction française par Nicole Oresme. Auteur : Oresme, Nicole (1322?-1382). Auteur du texte Auteur : Aristoteles (0384-0322 av. J.-C.). Auteur du texte Auteur : Oresme, Nicole (1322?-1382). Traducteur Date d'édition : 1400-1420 Type : manuscrit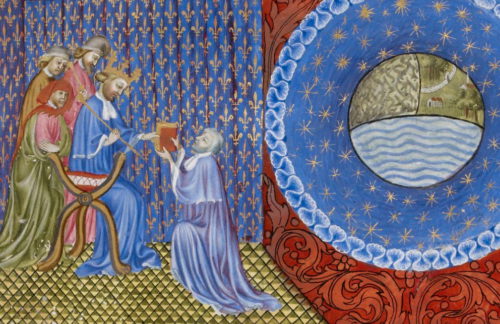 J.K. PetersenJanuary 3, 2016 at 9:08 PM
…
Those "crinkly lines" around the edges are medieval iconography for "heaven" or "the heavens" in both the religious context and the general all-the-stuff-up-there-in-the-sky context.

They were extensively used in chronicles, atlases, and instructive texts as shorthand for angels and the angelic realm, deified royalty, God, heaven, the heavens, etc. You can usually tell which one is meant by other nearby objects.

Since many people at the time couldn't read, and illustrations were used to instruct the nonliterate (or barely literate), this figure-eight-seashell symbology was widespread.
If you look at the map (Island of Crete in Greece on the Kitab-ı Bahriye (Book of Navigation) of Piri Reis) you will notice that the island itself also has something like "wolkenbands":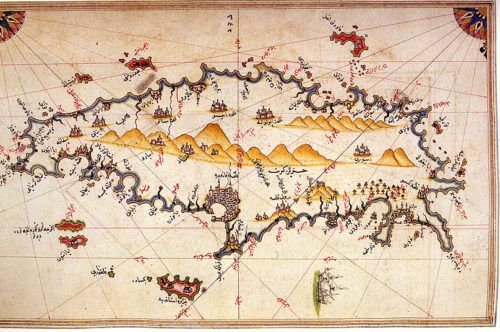 Why Crete popped up, will be clear if you read the page Greec II.
Nick P. (1) e-mailed  the PDF of Leonell C. Strong's letters where Erla Rodakiewicz writes in 1945 that she found many similar wolkenbands f.e. in Italian manuscripts: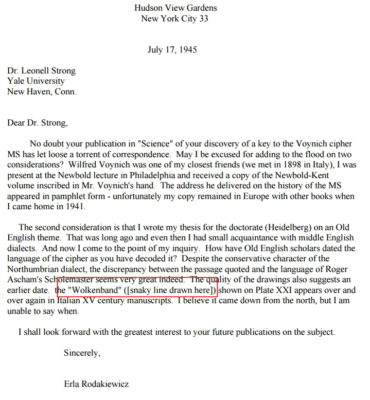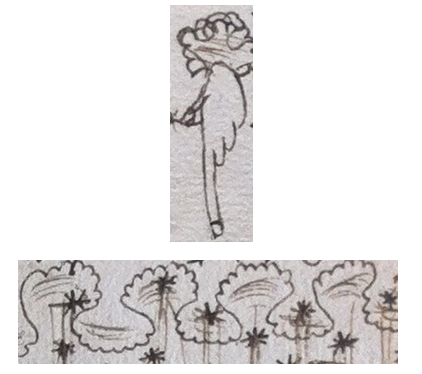 Well, up to now,  I did not locate "thousands" of works with a wolkenband, perhaps a handful. Conclusively,  I am not convinced this is mainstream for the timeframe 1400-1500.
Please provide evidence for the so called "extensively use" and the "very well known in the history of art" pictures.
But it showed me that the conclusion that the marginal find, on top of the page, is not as special or unique as I thought it was.
---
With thanks to Nick Pelling to read the page and give me the "wolkenband" connection for further research. and the reference below.
(1) Wolkenbanden were linked to the Voynich Manuscript by Erla Rodakiewicz as far back as 1945: http://www.apprendre-en-ligne.net/crypto/bibliotheque/Voynich/strong_letters.pdf
---
As a sidestep this amazing book was found on the Internet archive, about the Wonders (prodigiis).
Prodigiorvm ac ostentorvm chronicon : quae praeter naturae ordinem, motum, et operationem, et in svperioribus & his inferioribus mundi regionibus, ab exordio mundi usque ad haec nostra tempora, acciderunt …
by Lykosthenes, Konrad, 1518-1561; Kandel, David, d. 1587; Manuel, Hans Rudolf, 1525-1571

Published 1557
Topics Monsters, Animals, Mythical, Curiosities and wonders

Petri's device on last p. (Baseler Büchermarken, 76). Ill. on t.p. Numerous woodcut ill. in text by various hands (repeats). A few are signed with the

monograms of David Kandel or Hans Rudolf Manuel; see Thieme-Becker. Historiated initials
Picture on page 648 and 639 with clouds and raining coming out:
Decimo tertio Calend. Sextitlis in Misniaeo pago quoda Zie-hest 1553 , non procul a Pirnauu, natus est infanis duobus capitibus, membris omnibus absolutis.
google translate:
Thirteenth Calender. Sextitlis Misniaeo a village at Ziehest in 1553, not far from the Pirnauu, was born a child with two heads, this has been done in all her limbs.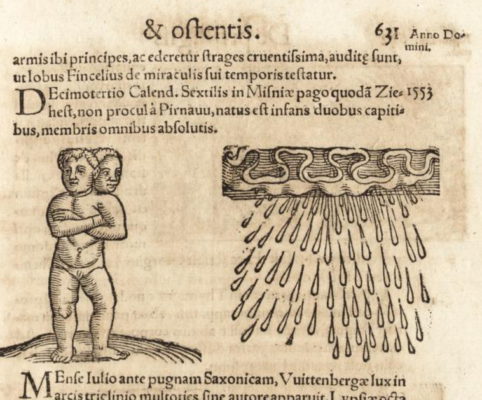 30.11.2016
The searched book has been found by Jason as incunabulum and I've received a description!
Although my expectations were lowered by the reactions, it is very exciting stuff reading it.
It is from e7r,
CUL Inc.3.D.2.17[4637], Johannes Versoris, Quaestiones super libros Philosophiae naturalis Aristotelis, Lyons: Johannes Trechsel, 1489. From the library of Nicholaus Ellenbog, with marginal notes and drawings in his hand and other unidentified hands.
Jason continues:
Yes, this is the right book and there are quite a few drawings in it, though most of them are diagrams making sense of the text, so are not so weird and wonderful. Very thick annotations too. The feast of astrological symbols is on e7r (this is the second run of signatures after the first set which uses capital letters).

 

Letter attached with more info!

 

best wishes, Jason
This letter is kept in a box with the book. I guess that Wohlmuth was the bookseller and £4500 the price he asked for the whole item (the binding is intact, with the musical fragment). (JASON)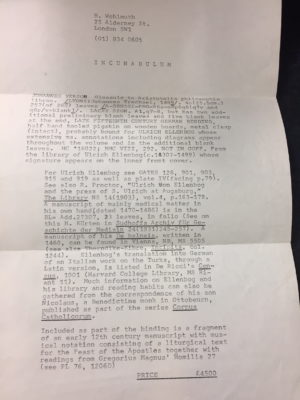 !
Now very interested in Ulrich Ellenbog (=Udalricus Ellenbog de Veltkirch) , and his son Nicolaus Ellenbog.    link *
The paper of Thomas Horst, is very interesting "der memminger arzt jakob stopel 1535".  
Der Memminger Arzt Jakob Stopel († 1535) und sein humanistisch geprägtes Umfeld. Kulturhistorische Betrachtungen zum "Repertorivm in Formam Alphabeticam" von 1519, in: Dieter Beineke / Otto Heunecke / Thomas Horst / Uwe G. F. Kleim (Hrsg.): Festschrift für Prof. Dr.-Ing. Kurt Brunner anlässlich des Ausscheidens aus dem aktiven Dienst (Schriftenreihe des Instituts für Geodäsie 87), Neubiberg 2012, S. 109-129. Online: https://www.unibw.de/IfG/Org/schriftenreihe/heft-87-2012/87-horst/index_html [in German]. That paper contains so much information and references, that reading and investigating all that, will take some time.
It becomes clear to me, that the Humanist movement is an element which is very important.
Another element is the cartographic development during those days.  Both subjects have my full attention.
Even if we see that in the Add ms 37049, dated 1460-1500, are wolkensbands, there is no doubt it is an widespread image.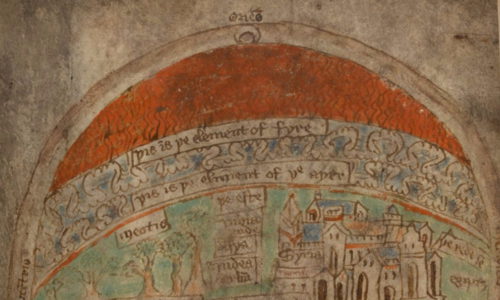 A Carthusian miscellany of poems, chronicles, and treatises in Northern English, including an epitome or summary of Mandeville's travels
Displayed is f2v.
ff. 1v-2r, Two full-page miniatures.f. 2v, A diagram of the earth divided into the three continents, with a note beginning, 'The thre son[n]es of Noe dyuyded þe warld in þre p[ar]tes….' (f. 2v).f

The entire TO-map shows on the left bottom is Europa, the right bottom Affrica, the top half Asya. Read more here. A small fragment:
"Meanwhile, at the very top we find a band of red, which is Fire; below that, a band of clouds running through a scribble of blue, which is Air; below that, written below a band of trees, Earth; and then, dividing the Asia, Europe, and Africa, the element of Water.

If fire, being lightest, is above the slightly heavier air, and if both of these are above the surface of the earth, then the labeling of elements intersects the world map at a perpendicular.

There's a catch, though: as earth is heavier than water, the labeling of elements reverses the final two, as it places water, incorrectly, below the earth. The simple explanation is that this reversal just represents our experience of our world: so long as we're not wading or drowning (or being rained upon), earth, for us, is above the water, whatever the claims of natural science.

The reversal also neatly represents our world's slightly off-kilter arrangement of elements, as explained by one far-seeing mid-fourteenth-century theorist.

Jean Buridan's commentaries on Aristotle's De caelo et mundi and Meteorologica consider the question of whether the whole earth is habitable. His answer? One quarter, yes, the rest not.

He doesn't get to that conclusion without some struggle. In Joel Kaye's summary,

Buridan first:
raises a question that Aristotle had never considered: why would any one quarter of the earth be more likely to remain above water and habitable than any other quarter?

Given the spherical nature of the earth, given that according to Aristotelian physics all earth falls naturally to the earth's center, given the great abundance of water with respect to land, and assuming with Aristotle…that the universe is eternal…why in the fullness of time should any portion of land whatsoever remain habitable above water? (94)

To save the world from drowning, Buridan concocts "an interconnected physical system in dynamic equilibrium" (95), in which heat and cold make the earth above waters slightly lighter than drowned earth, so that the earth's weight and its center of magnitude slightly differ. Only the earth below the waters is as cold as it naturally should be. The off-kilter interaction of earths of varying density, balanced in an eternal motion of unbalance, keeps exactly one ever-shifting quarter of the earth above water (96).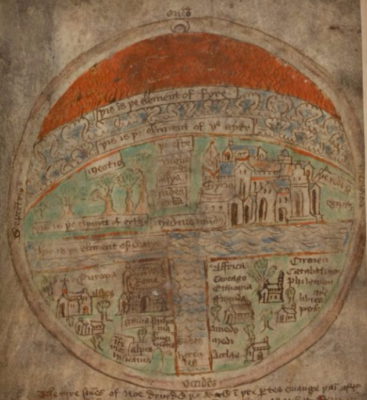 Horst paper links:
p.111
"Phainomena" des ARATUS VON SOLEI
http://gallica.bnf.fr/ark:/12148/bpt6k54023m/f143.item.zoom
Titre : Aratou Soleas, Phainomena Kai Diosemia, Theonos scholia ([Reprod.])
Auteur : Aratus (0315?-0240? av. J.-C.) Éditeur : G. Morelium (Parisiis)
Date d'édition : 1559 Type : monographie imprimée
Langue : Grec Description : [Phénomènes (grec ancien). 1559]
Source : Bibliothèque nationale de France
more on Aratus https://en.wikipedia.org/wiki/Aratus
Earliest examples
The probable origin of the wolkenband lies perhaps around 1220-1230 when the first fractalled "heaven" drawings occured: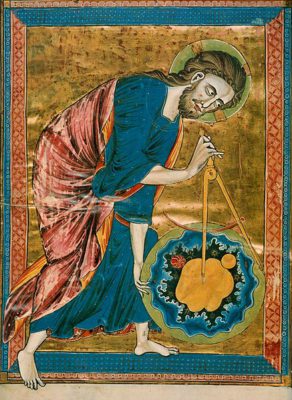 Français : Dieu l'architecte de l'univers, frontispice d'une bible moralisée.
English: God as Architect/Builder/Geometer/Craftsman, The Frontispiece of Bible Moralisee
Description
Science, and particularly geometry and astronomy/astrology, was linked directly to the divine for most medieval scholars. The compass in this 13th century manuscript is a symbol of God's act of Creation. God has created the universe after geometric and harmonic principles, to seek these principles was therefore to seek and worship God.
Inscriptions : Ici crie Dex ciel et terre, soleil et lune et toz elemenz
Famously used as the first color illustration to Benoit B. Mandelbrot's The Fractal Geometry of Nature.
Date circa 1220-1230. Medium illumination on parchment
Source: Codex Vindobonensis 2554, f.1 .Source/Photographer archiv.onb.ac.at.  https://commons.wikimedia.org/wiki/File:God_the_Geometer.jpg
Locations
Most manuscripts with wolkenbands originate from France and some from the U.K.
13-5-2017
But, take for example:  Antonius Wierix II, Christ in Limbo, Evangelicae Historiea Imagines, 1593,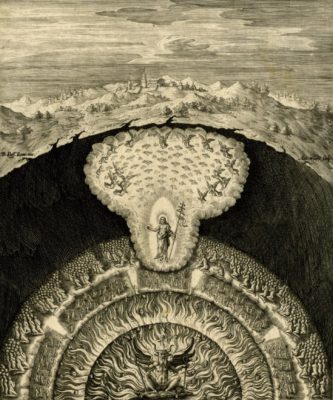 Jesus, in a cloud of angels, descends from the surface of the earth through the circles of hell past supplicants and the souls in limbo and purgatory to the inferno where the devil Lucifer sits comfortably on a nude woman. On earth are castles and towns.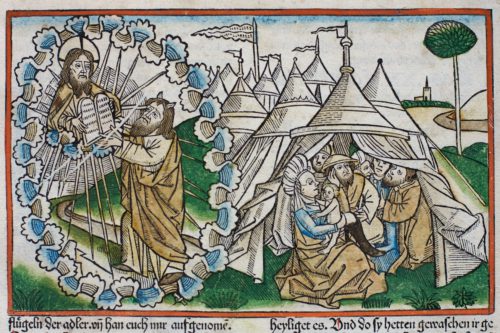 The source Bibliotheca Humanitatis, shows an very interesting image (see above), of the Exodus 20, Koberger Bible, 1483.
Exodus 20 & 21. Woodcut of Moses receiving the ten commandments. This was the 9th of fourteen printed editions of the Pre-Lutheran German whole Bible in the Middle High German dialect.
and
2 Kings 18 & 19. Woodcut of the angel of the Lord slaying the forces of Sennacherib. This was the 9th of fourteen printed editions of the Pre-Lutheran German whole Bible in the Middle High German dialect.
And there are more such images inside: https://collections.artsmia.org/art/46770/people-of-israel-punished-for-worshipping-false-gods-from-the-koberger-bible-nuremberg-unknown-german-15th-century
Also we find DAVID depicted with the harp, accompagnied with some "wolkenbands" and on the pillows some small fleur-de-lis: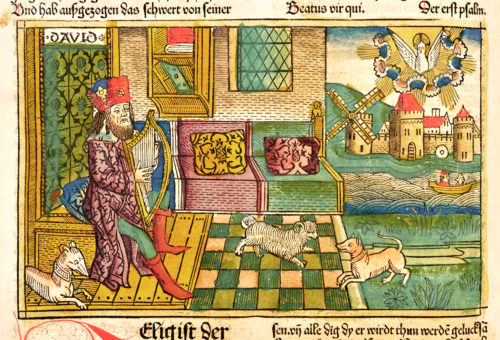 On this page we see in "das buch des aufgangs", that god is throwing some sort of balls from heaven in das xvi capitel "wie sy goe speyset in der wuste mit fleysch. und mit brot des hymels.und wie sy des missprauchten". So this is panem or bread.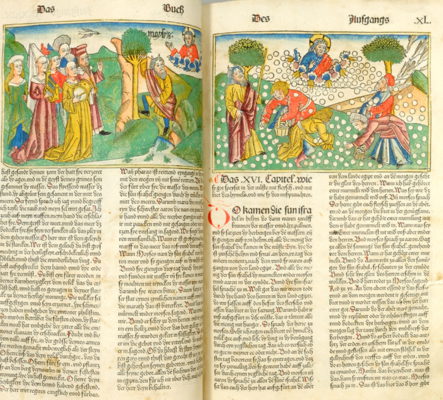 A similar bible with woodcuts the Stamp.Ross. 283: (description says 1478-1479 cologne and that would mean that the bible was printed before the Koberger): "printed in 1478-1479 in Cologne by Heinrich Quentell and Bartholomaeus of Unkel on behalf of Johann Helmann and Arnold Salmonster in Cologne and Anton Koberger in Nuremberg. "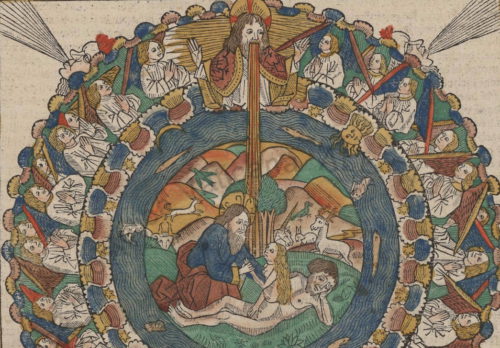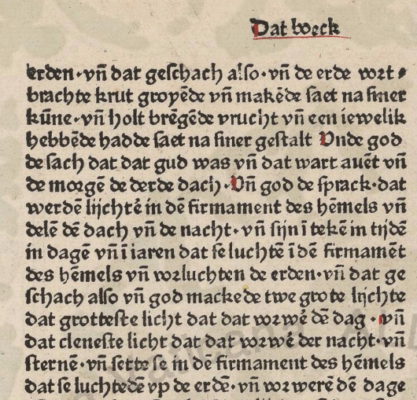 Dat boeck:
..erden und dat geschach also und de erde vort
brachte krut groyende und makende seat na siner
kunde und holt brengende vrucht und een iewelik
hebbende hadde saet na siner gestalt. Unde god
de sach dat dat gud was und dat wart aue?t und
de mor?gen de derde dach. Und god de sprakc dat
werden lijchte in den firmament des he?mmels und
delem de dach und de nacht und sijn in teken in tijden
in dagen und in iaren dat se luchten in den firmament
des hemmels und ror?luchten de erden …
+-+-+-+-+-+-+-+-+-+-+-+-+-+-+-+-+-+-+-+-+-+-+-+-+-+-+-+-+-+-+-+-+-+-+-+-+-+-+-+-+-+-+-+-+-+-+-+-