heliocentric or geocentric
Is the VMS written in a style where the earth is the center of the other planets and the sun?
Ptolemy argued that the Earth was in the center of the universe. In the Ptolemaic system, each planet is moved by a system of two spheres: one called its deferent, the other, its epicycle.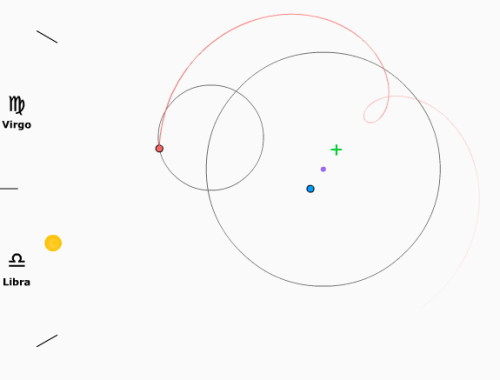 The geocentric model was eventually replaced by the heliocentric model.
Or is the earth circling the sun in the VMS ?

After many discussions between 1200-1500,
In 1543, the geocentric system met its first serious challenge with the publication of Copernicus' De revolutionibus orbium coelestium (On the Revolutions of the Heavenly Spheres), which posited that the Earth and the other planets instead revolved around the Sun.
The Ptolemaic model of the solar system held sway into the early modern age; from the late 16th century onward it was gradually replaced as the consensus description by the heliocentric model.
Kircher's comparisements
Diagrams of the different world systems, Ptolemaic, Platonic, Egyptian, Copernican, Tychonic and semi-Tychonic from Iter Exstaticum (1671 ed.) p. 37
http://web.stanford.edu/group/kircher/cgi-bin/site/?attachment_id=533
The VMS pages.
… still to do…
Usefull links:
simulator Flash:  http://astro.unl.edu/naap/ssm/animations/ptolemaic.swf
https://en.wikipedia.org/wiki/Geocentric_model
See also SACROBOSCO_Tractatus_de_Sphaera_-_(16)_Ex_Libris_rare_-_Mario_Taddei