Comets, crossbow and Rupert
via an article on F68r, where a comet has to be seen… i searched for comets between the year 1400-1440.
On http://cometography.com/orbits_15th.html i found there are only 2 comets:
C/1433 R1
Closest to the Earth: 1433 October 9 (1.2290 AU)
and
C/1439 F1
Closest to the Earth: 1439 March 30 (0.3204 AU)
More details on Nasa: http://ssd.jpl.nasa.gov/sbdb.cgi#top.
Also i informed about software to investigate and this was recommended:  Cartes Du Ciel,  Celestia en Stellarium.
A closer look at details on the first comet, led me to wikipedia page:
http://de.wikipedia.org/wiki/C/1402_D1.
There we can read:
Wenig überraschend wurde der gewaltige Schweifstern mit allen möglichen Unglücken und Kriegshandlungen in Verbindung gebracht, eine Braunschweiger Chronik erwähnt kurz und bündig: In düssem jare stod ein Comete mit einem langen sterte, de brachte starven unde vele kriges.[5] In England wurde der Komet als ein Vorzeichen der Schlacht von Shrewsbury gesehen, in Mitteleuropa brachte man ihn in Verbindung mit dem gescheiterten Feldzug König Ruprechts nach Italien, oder dem Tod des Mailänder Herrschers Gian Galeazzo Visconti.
Following the first link to King Ruprecht. Shows there were 2 kings. Wenzel, Ruprecht 1 and 2. during 1398 and 1410.
Looking at Wenzel we see a very clear crossbow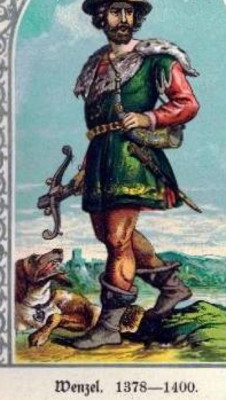 and Ruprecht  vonder Pfalz is also shown.
Die Wenzelsbibel ist eine zwischen 1390 und 1400 entstandene Prachthandschrift. Diese deutschsprachige Bibel wurde für den König Wenzel IV. von Böhmen geschrieben und gemalt.
Translated: The Wenzelbible is written by Wenzel 4th and drawn himself
Here you can find a book with some items it also discusses the meaning of the little Edge-drawings: Page 270: http://digi.ub.uni-heidelberg.de/diglit/jbksak1893/0238/scroll?sid=a2a65b055be6dd28aced1056113048c0
such as
Also you read about comets in 1351 :  https://de.wikisource.org/wiki/Die_Schedelsche_Weltchronik_(deutsch):229
EIn comet erschine im .M.ccc.li. iar[7] in dem december monat in der mitternachtlichen gegent. darnach komen schwere wind. vnd man sahe einen vornen prinnenden palcken von himel fallen. Vnnd man sagt das vor babst Innocencii des sechsten tod ein groeßere vinsternus der sunnen gewesen dann dauor ye gesehen worden wer.EIn großer vberschwencklicher schewhlicher tampff beweget sich in dem gewuelcke vnd fiel auff die erden nyder. vnd man sagt das ein große zal gewuerms im oriennt von himel herab gefallen sey.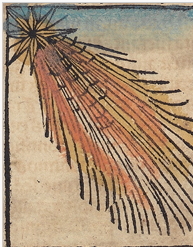 Also on other pages, https://de.wikisource.org/wiki/Die_Schedelsche_Weltchronik_(deutsch):225
comets are described.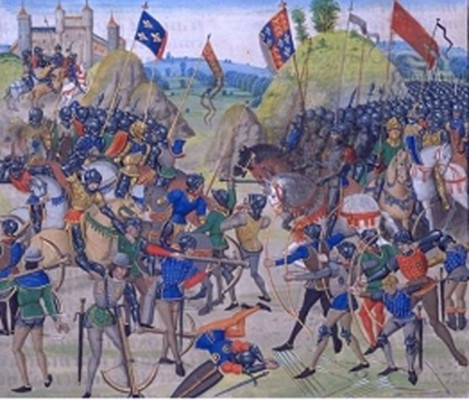 The illustration of the naval battle of Sluis in 1340 and of the confrontation of English longbow's with the French crossbow's in the battle of Crecy in 1346 in a 15th century manuscript by Jean Froissart.
detail: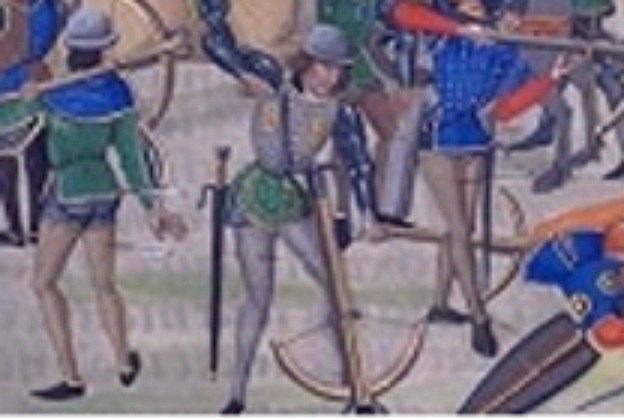 And also (see page about "air flow..etc" as well) in the Bellifortis i found kind of crossbow, that was made around 1450, so this means that bow indeed exists during those days.